S
Metal detector with panel transducers without crossbeam. Next-generation device with high discriminating capacities and immunity to external electromagnetic interferences.
It is an easy-to-use device that doesn't require special arrangements for its installation.
ELECTRONIC CONTROL UNIT
SCDM4 Central Control Unit
Shock-proof mechanical contruction (IP20);
Supply voltage 24 Vdc;
Consumption 30 Watt;
Temperature range -15°C + 55°C;
Relative humidity 0-95% without condensation;
Input voltage 110-240 Vac or 24 Vdc;
Power supply with battery charger (optional);
Emergency batteries backup with a four-hour autonomy (optional).
TRANSDUCERS
Panel width 500 mm
Also available panel width 140,280, 300,400 mm
Passage width from 700 to 900 mm
Shock-proof mechanical construction (IP20);
Number of transits counter in both entrance and exit ways through the device (only available for the P300S, P400S and P500S models);
STOP/GO (red/green) traffic light for the regulation of the passage of users through the device (optional);
Laminate covering;
It takes up a minimal amount of space
Finish profiles in extruded PVC;
Built-in alarm LED bar (optional).
CERTIFICATIONS
Immunity certification for wearers of pacemakers;
Harmless to magnetic supports (floppy disks, tapes, credit cards etc);
Compliant with the NILECJ.0601 standards at all levels;
Compliant with the FAA "3 GUN TEST" standards;
CE certification.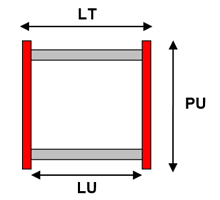 | | | | | | | |
| --- | --- | --- | --- | --- | --- | --- |
| Model | LT (mm) | LU (mm) | HT (mm) | HU (mm) | PU (mm) | PA (mm) |
| P140S | from 780 to 980 | from 700 to 900 | 1980 | 1980 | 140 | 150 |
| P300S | from 780 to 980 | from 700 to 900 | 2000 | 2000 | 300 | 400 |
| P400S | from 760 to 960 | from 700 to 900 | 1945 | 1945 | 400 | --- |
| P500S | from 800 to 1000 | from 700 to 900 | 2000 | 2000 | 510 | 600 |
| P500SH | from 800 to 1000 | from 700 to 900 | 2200 | 2000 | 510 | 600 |