Cyl
Self-managed high security portal (or security booth) with automatic door opening and external metal detector.
Monobloc with 30/10 mild steel sheet, painted with highly resistant shock-proof and corrosion-proof products;
It can be covered in stainless steel, brass and copper;
Anti-vandal and bullet-proof side and door glasses;
Weight control system allowing only one transit at a time;
Highly discriminating external metal detector;
Accident prevention safety in line with the standards in force;
Possible interface with external peripheral devices, badge readers, biometric systems etc.;
On request, entrance at 90°;
Passage available in line with the rules for the transit of people with disabilities;
The internal cage of the security booth, formed by the doors, floor and side walls, hangs from a weight sensor. This particular solution permits the automatic control of the interior of the security door in order to determine the transit of a single person at a time. It also allows to verify if after every metal detector alarm a weapon has been left inside.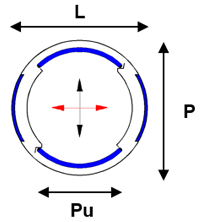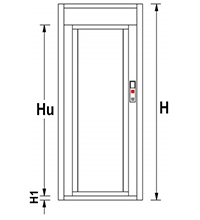 | | | | | | | |
| --- | --- | --- | --- | --- | --- | --- |
| Model | L (mm) | P (mm) | Pu (mm) | H (mm) | Hu (mm) | H1 (mm) |
| CY01 (*) | 1050 | 1050 | 600 | 2400 | 2000 | 60 |
| CY02 | 1150 | 1150 | 640 | 2400 | 2000 | 60 |
| CY03 | 1280 | 1280 | 740 | 2400 | 2000 | 60 |
| CY04 | 1500 | 1500 | 900 | 2400 | 2000 | 60 |
(*) - Standard